Culturally and societally, high school students are pressured to attend a four-year college and pursue a bachelor's degree, and maybe a master's degree and beyond to get the best start in life. Almost every teacher and guidance counselor in America follow this conventional wisdom while advising their students. This is understandable because it's what they know. Academia is their world. 
Unfortunately, following this advice has been financially debilitating for some kids and their parents, putting  them in long-term debt with little to no return on the long-term and extremely expensive educational investment.
Vocational tech schools, trade schools, the military and community colleges offer better options for many of today's youth in spite of the pressure to conform to academic expectations. Without having family wealth or earning full-boat scholarships, students and their parents must seek financial aid, borrow huge sums, and pay for college even while they are still unsure of a career path. This approach to higher education is unnecessary, and many parents need to wake up about other options for their growing children.
The construction and manufacturing trades pay well from the start and provide practical business experience that college cannot offer. Consider the benefits of a starting job at GMFCo:
Hands-on technical experience in a high demand industry

 

Get paid while learning valuable skills

 

Vocational Tech classes paid by the company

 

Great benefits such as healthcare, dental, flexible hours and paid vacations

 

Unlimited advancement opportunities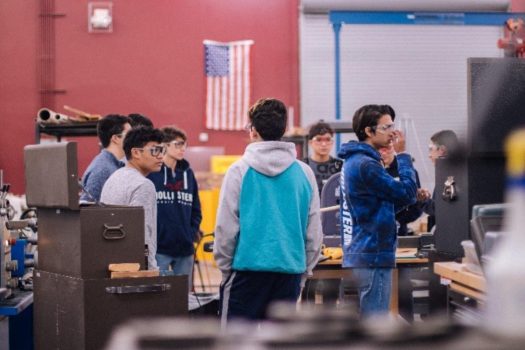 We are not down on education. Just the opposite as we strongly encourage everyone in our company to continually learn, whether taking outside classes or attending our in-house training on the job. Our point is that education comes in all shapes and sizes and everyone should be able to learn and grow according to what's best for them. For some, that's 4, 5 or 6 additional years in college and for many others, great careers begin right out of high school. We've had the pleasure of watching people in our company flourish who had previously no means to go to college.
Every child is different so it's important to work with them closely to discover their talents, interests and best career opportunities. Trade schools and colleges both have advantages. The important thing is understanding their differences concerning time, money and value return. A comprehensive article from Indeed.com discusses the key differences and benefits of each option so whether you're a student or parent, you can make a more informed decision. 
Lastly, please consider the great earning and growth opportunities at our company or pass it on to someone looking for a job. We're always looking for people who love to build the things that make the world work!