Preparing the next generation of engineers and mechanics
The industrial and technology communities came together this year to support Mechanical Mayhem, the Milford Area Homeschoolers FIRST Robotics team. GMFCo was delighted to sponsor the local team that made it all the way to the national quarterfinals in St. Louis in April. Mechanical Mayhem qualified for the Nationals with an impressive 3rd place ranking out of 194 New England teams competing.
FIRST Robotics, started by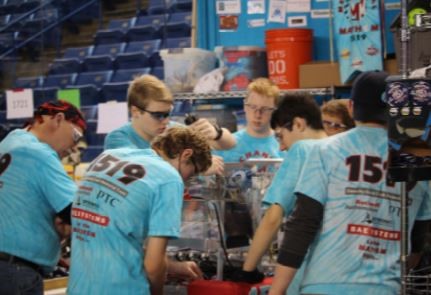 science & technology visionary Dean Kamen of DEKA Research, teaches middle and high school students some of the wonders of engineering. Beyond that, the kids experience how to apply scientific, technological and mechanical principles in real, fun and exciting ways. This fun program has fostered curiosity and interest in STEM and mechanical work like no other that we're aware of. As a result, the economy benefits from a renewed interest among young people in designing and building useful things.
Great Careers Ready and Waiting
The Manufacturing, Engineering and Construction sectors of our economy are starving for educated, trained and skilled workers. We're literally screaming for young, creative, motivated talent to fill the growing roles in management, operations, technical and field work.
FIRST Robotics gets students deeply involved, not only in the design and technology aspect of building robots, but they must work with their hands in diverse ways. These kids get applied exposure to computer programming as well as a wide variety of components manufacturing and assembly. They deal with metal fabricating, machining, plastics, electronic circuitry, wiring and more. Students also learn the importance of honorable competition as well as collaborating and forming winning alliances.
You can see it in their eyes. All members of the Mechanical Mayhem team could hardly contain their excitement, not only during the competitive events but every time they showed up to work on their robot. Some of them can't wait to take their new engineering knowledge to the next level.
As reported in the Monadnock Ledger-Transcript on May 16, 2017, "Guida, 16, of Lyndeborough … has been with Mechanical Mayhem for 6 years … 'I figured I would go and try it out, because it seemed like a cool thing to do. At least in my opinion, it's a lot more fun at this level because there's a lot more engineering.'"
Responsibility for the Future of Industry
FIRST Robotics is a terrific model for getting young people interested in technology and manufacturing careers. We believe that more needs to be done on both a national and state-wide basis to prepare American children for the rewarding careers of today and going well into the future. The Monadnock Ledger-Transcript also reported, "New Hampshire Education Commissioner Frank Edelblut, who home schooled is kids in Wilton, had two children pass through the program. Last week, (on or about May 10, 2017) he made a proposal to expand school robotics programs throughout the state."
New Hampshire is fortunate to have a man like Dean Kamen who is willing to commit significant personal and business resources toward advancing interest in STEM and mechanical careers. New England is also fortunate to have numerous engineering schools and technical colleges but we need to seriously confront the continued lack of interest in technical and manufacturing careers and this starts as early as elementary school.
We'll continue to sponsor and support local initiatives that promote STEM and mechanical learning. If we fail to lay the foundations for our children's future, who will? Who should?