Before any high-tech products like your phone or laptop can be manufactured to meet the market's demand, machines need to be manufactured and those machines are a collection of parts. Some of those parts must be large, rigid and unyielding to handle all the friction and pressure of mechanized kinetics, namely the foundations and large frameworks of these machines. Generally speaking, larger parts mean fewer parts and better overall stability.
Consider the precision quality of your phone, tablet, laptop, television or other high-tech device. Pretty impressive, isn't it? Notice how precise everything fits together geometrically in a sleek, trim, durable unit that can do amazing things.
Foundations for Precision Quality
Apple, Microsoft, Samsung, Google, HP, Dell, Motorola and other high-tech manufacturers owe much of the precision quality of their products to the machines and robots that produce them. Foundational to those machines are the frames containing and supporting the working parts.
There can be no precision quality manufacturing without the square, level and rigid properties of the frames. That's where large part fabricating & machining are crucial and highly valued.
The less movement and vibration machine frames are subject to, the better the machines perform and the longer they last. Larger and fewer parts in a frame assembly reduce friction and movement thereby improving rigidity and durability. Fewer parts also means having fewer things to maintain or fix!
A major portion of our work at GMFCo supports the manufacturing and logistics industries by building frameworks and housings for their machines to perform properly.
Helping Manufacturers & Distributors Meet Demand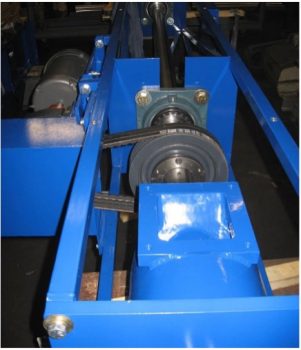 GMFCo has specialized in large part fabricating and machining (in part) to supply high-tech equipment manufacturers and others with the structural components needed for their assembly lines and materials handling equipment. We supply machine bases and large frameworks used in many different industries including technology, hardware, construction, food processing, materials handling, warehouse automation, paper processing, printing presses, semiconductor manufacturing and defense contracting to name a few.
Experience Counts
If you can design the machines, then we can manufacture the frames for you. Our large CNC equipment such as 5-axis milling machines and our Quickmill Gantry Machining Centers provide the capabilities to produce the larger, heavier parts, such as large frameworks, needed for most industrial machine building.
We work with all kinds of metals and various grades of each. Whether it's steel, stainless, copper, aluminum, bronze or even tantalum, we can machine it and form it into the precise shape you need, and in sizes large enough for frame building.
Are your finished products of a consistently high quality that your customers deserve? Remember, where others see problems, we see opportunities!
If you need durable frames or any other large metal parts to support and house the workings of your manufacturing equipment, feel free to call us at 603-889-2600.